Various politicians and pundits after every act of violence in the news; "This is not who we are."
the U.S. government authorized over 1,500 wars, attacks and raids on Indians, the most of any country in the world against its indigenous people.
4,084 African-Americans were lynched between 1877 and 1950 in the South.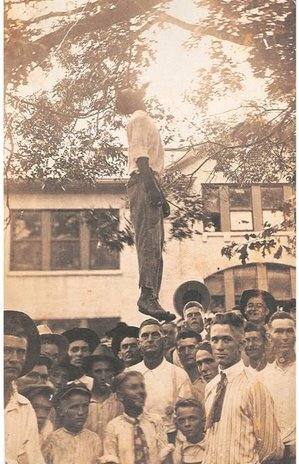 "The message was clear. The fate of America — or at least of white America, which was the only America that counted — was at stake. On the autumn evening of Thursday, Oct. 7, 1948, South Carolina Governor Strom Thurmond, the segregationist Dixiecrat nominee for President, addressed a crowd of 1,000 inside the University of Virginia's Cabell Hall in Charlottesville, Va. Attacking President Truman's civil rights program, one that included anti-lynching legislation and protections against racial discrimination in hiring, Thurmond denounced these moves toward racial justice, saying such measures "would undermine the American way of life." 
"The FBI's Uniform Crime Reporting (UCR) Program serves as the national repository for crime data collected by law enforcement. Its primary objective is to generate reliable information for use in law enforcement administration, operation, and management. Reported yearly, the 2017 data, submitted by 16,149 law enforcement agencies (up 5.9% from 15,254 agencies in 2016), provide information about the offenses, victims, offenders, and locations of hate crimes. Of these agencies, 2,040 reported 7,175 hate crime incidents involving 8,437 offenses."
"Racism in the United States has existed since the colonial era, when white Americans were given legally or socially sanctioned privileges and rights while these same rights were denied to other races and minorities. European Americans — particularly affluent white Anglo-Saxon Protestants — enjoyed exclusive privileges in matters of education, immigration, voting rights, citizenship, land acquisition, and criminal procedure throughout American history. Non-Protestant immigrants from Europe, particularly Irish people, Poles, and Italians, often suffered xenophobic exclusion and other forms of ethnicity-based discrimination in American society until the late 19th century and early 20th century. In addition, groups like Jews and Arabs have faced continuous discrimination in the United States, and as a result, some people who belong to these groups do not identify as white. East, South, and Southeast Asians have similarly faced racism in America."
This…is who we are.
And no amount of "experts" and "pundits" and politicians – all fantasizing that we are on the better side of angels – can ever whitewash America's terrible history of hate and violence. And "this" is by no means an American phenomenon. This is world-wide, and occurs all throughout humankind's sad history. As wonderful as all of humankind's achievements are, this violence and hatred, along with humankind's relentless attack on it's only home, Earth, is stark proof of humankind's arrant cosmic ignorance of place, ignorance of connection, and hypocrisy in pretending to a "Christianity" that ignores every precept of Jesus Christ. 
Is this not who we are?
© tony powers and Barking in the Dark, 2019. Unauthorized use and/or duplication of this material without express and written permission from this site's author and/or owner is strictly prohibited. Excerpts and links may be used, provided that full and clear credit is given to tony powers and Barking in the Dark with appropriate and specific direction to the original content.