Because Ted Nugent slammed survivors of the Parkland, Florida, school shooting, calling them "liars" and "poor, mushy-brained children" – and for a myriad of other reasons…THIS:
Screaming "Get me a Jew doctor" Ted Nugent was rushed into the emergency room of Central Hospital at 4 am this morning after his penile implant exploded in the Hot Buns all-night movie theater.
Nugent was brought to the emergency room by a young Latino who told reporters "we were jackin' each other off when this guy's dick exploded in my hand – and not in a good way ese tipo está loco -up to then everything was simpatico." He continued; "He was jackin' my junk an' like moanin' whack my Glock you spic, an' I wanna see that big spic cannon go off… an' chupame la pinga…you know? Shit like that, fue genial hombre. An' he had a gun an' he was suckin' on it like it was a pinga too. This is one sick little maricon, tú entiendes?" The young Latino, who looked to be about 14, wouldn't give his name. He was staying around because as he put it "this sorry-ass maricon owes me money from before."
Reporters, who had rushed to the emergency room, asked Nugent if he was a homosexual, Nugent screamed "Homo? You callin' me a fuckin' faggot? I'll fuckin' fuck you up you fuckin' motherfucker. I'll tie your hands and feet, stick a ball gag in your mouth, bend you over, and fuck you up the ass with my Glock while I squeeze your big juicy sweet hairy balls motherfucker! And  then  you  better fuckin' return the favor or else. And where the fuck do you get the dumb idea that I am in any way gay you fucking asshole anyway? I'm a one hunnert per cent real man – an' a fuckin' God-fearin' patriot."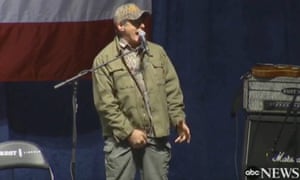 Another reporter mentioned to Nugent -since he brought up the idea that he's a "patriot," – that it's common knowledge that he had purposely shit in his pants to avoid going to Viet Nam, citing Nugent's claim that 30 days before his Draft Board Physical, he stopped all forms of personal hygiene. The last 10 days he ate nothing but junk food and Pepsi, and a week before his physical, he stopped using the bathroom altogether, virtually living inside his pants caked with excrement and urine.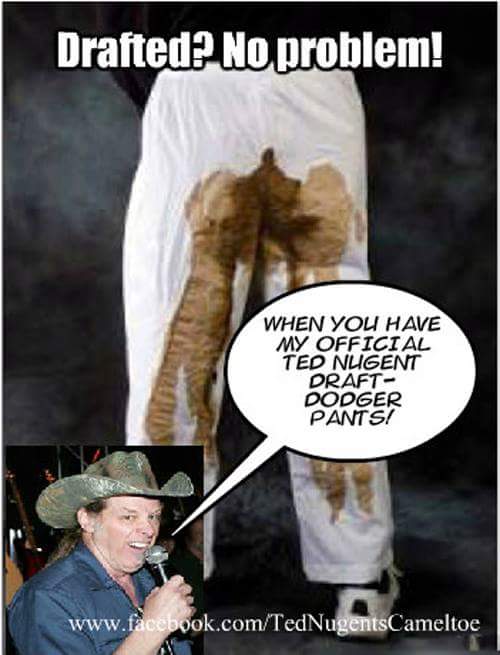 The shit encrusted pants spectacle won Nugent a deferment. Still, Nugent screamed: "if I would have gone over there, I'd have been killed, or I'd have killed, or I'd kill all the hippies in the foxholes … I would have killed everybody. That's the kind of man I am."
Nugent, a dangerous man – to music – was then asked "If you're not gay, then what were you doing in a 24 hour gay theater at 4 in the morning with a young Latino mutually masturbating each other?" Nugent replied; "Alls I know is if we don't listen to Donald Trump there goes our guns – an' all our good, manly, God fearing Christian American family values, will go down the crapper."
Rush Limbaugh said the whole movie thing was a gay conspiracy.

© tony powers and Barking in the Dark, 2018. Unauthorized use and/or duplication of this material without express and written permission from this blog's author and/or owner is strictly prohibited. Excerpts and links may be used, provided that full and clear credit is given to tony powers and Barking in the Dark with appropriate and specific direction to the original content.