"I've known Jeff for 15 years. Terrific guy. He's a lot of fun to be with. It is even said that he likes beautiful women as much as I do, and many of them are on the younger side. No doubt about it – Jeffrey enjoys his social life."         
                                                                                                 – Donald Trump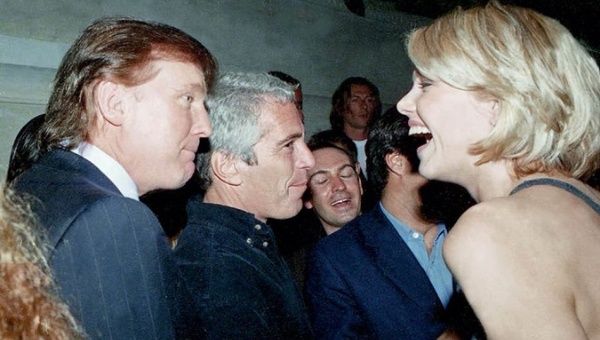 Asked about his previous rhetoric about Epstein, Trump told reporters this afternoon, "Well, I knew him like everybody in Palm Beach knew him. I mean, people in Palm Beach knew him; he was a fixture in Palm Beach. I had a falling out with him a long time ago. I don't think I've spoken to him for 15 years. I wasn't a fan. I was not – yeah, a long time ago. I'd say, maybe 15 years. I was not a fan of his, that I can tell you. I was not a fan of his."
Yeah, and I have a really nice bridge I can give you a good deal on.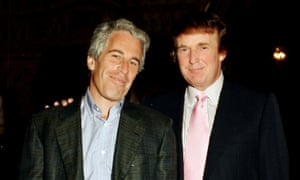 Donald Trump is fighting claims that he raped a woman when she was a teen.
The woman — identified as Katie Johnson — filed documents in a California court on April 26, accusing Trump and billionaire pedophile Jeffrey Epstein of "sexual abuse under threat of harm" and "conspiracy to deprive civil rights," From RadarOnline.com
If I were prosecuting I would make it plain to Epstein that his sentence would be significantly reduced from a 45 year sentence – or, in his case, life – if, and only if, he tells us all about Trump's part in sex with underage females. When his legal team asks what the proposed sentence reduction would be I would just say it will be significantly less – it will not be 45 years. And if Epstein, and his team, do not agree then he will be left with definitely spending the rest of his life in a Federal Penitentiary with no chance of parole. He will, of course, talk. And, after he talked I would reduce his sentence. To twenty fucking years! These are two pieces of shit who must be brought down. Let us hope that Epstein spills his filthy guts to save his skin…and rats out Trump in the process.
And, any others who had sex with underage females and are ensnared in this – whoever they are – must also stand trial.
If this is what it takes to rid us of Donald Trump I am all for it. Prosecutors – turn the screws!
© tony powers and Barking in the Dark, 2019. Unauthorized use and/or duplication of this material without express and written permission from this site's author and/or owner is strictly prohibited. Excerpts and links may be used, provided that full and clear credit is given to tony powers and Barking in the Dark with appropriate and specific direction to the original content.