1. Besides fitting the clinical definition of a classic narcissist, Donald J. Trump also possesses the classic traits of the passive-aggressive. He says things like – and I am paraphrasing here but the essential part is the last three words – "the Governor of Maryland should have called me, or the Vice-President, and he would have saved a lot of money. But that's alright." If it is alright then why attack the man? This is the way an emotional coward operates.
Check this link's list of ten common traits passive-aggressive people exhibit. They scream Donald Trump! He often says things like; "just kidding," after attacking someone or, as he said after attacking the Republican Governor of Maryland; "but it's alright."
"The hallmark of a passive-aggressive attack is that it is intentionally indirect and intentionally covertly delivered. It is the cowardly, lily-livered and chicken-hearted way of addressing an issue."  Author Dr. Sam Vaknin writes that "passive-aggressiveness has a lot in common with pathological narcissism: the destructive envy, the recurrent attempts to buttress grandiose fantasies of omnipotence and omniscience, the lack of impulse control, the deficient ability to empathize, and the sense of entitlement, often incommensurate with its real-life achievements."
Trump is a text-book narcissist/coward. 
2. In view of the actions of these "patriotic" flag waving Trump voters displaying their arrant ignorance on signs proclaiming their "constitutional rights" while protesting against having to isolate or wear a mask to mitigate this horrible pandemic I am now convinced that they truly are low IQ morons. They are willing to willfully ignore all the medical experts, all the science, all the statistics, and are gleefully willing to put everyone besides them at risk of losing their lives, our lives, as they proudly put their stupidity on parade.

These are the faces of ignorance. These are the Trump voters.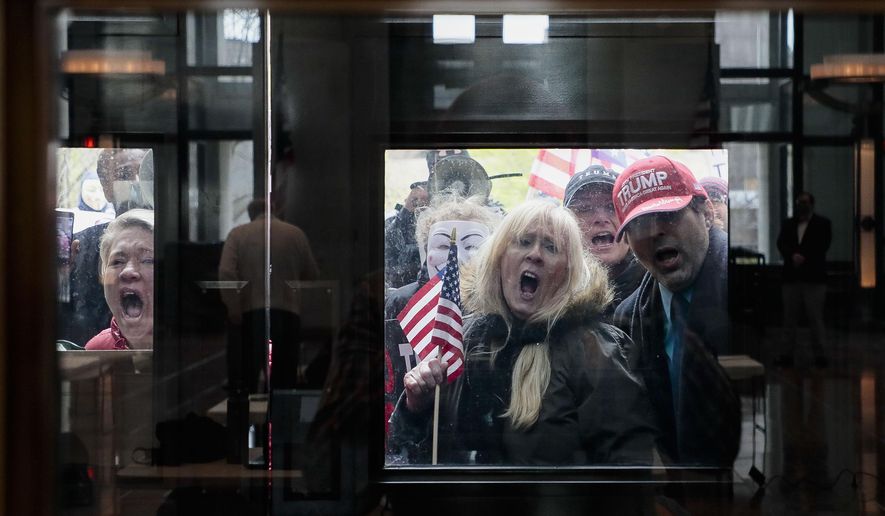 I know it is a terrible thing to hope, but somehow I suspect I am not alone in hoping that they all get sick. It appears that nothing short of a severe illness due to Covid-19, or their death from same, will turn these inconsiderate deaf and dumb zombies away from their equally deaf and dumb fearless leader.

© tony powers and Barking in the Dark, 2020. Unauthorized use and/or duplication of this material without express and written permission from this site's author and/or owner is strictly prohibited. Excerpts and links may be used, provided that full and clear credit is given to tony powers and Barking in the Dark with appropriate and specific direction to the original content.