Rick Santorum's mistress of two years, in her first interview, and over her fourth martini, says, "I lose my lady wood when Ricky starss praying on th'rare 'ccasions when he gess ready to climb onto me." The former porn star takes a long slow drink and daintily puts her glass down in that over-careful way that someone does when they are a little more than somewhat tipsy. It is 4:25 in the afternoon, and cigarette smoke-filled shafts of sunlight slowly move across the tables near the front window of her favorite haunt The Fine Fishy Kettle, a dimly lit saloon of dubious reputation in a slightly less than glamorous part of Washington D.C. She is precariously perched on a stool at her preferred spot at the far end of the bar.
Silence…
She picks up her glass, takes a sip and then; "We met on-line at Chrishian Mingle…I figgered he was a l'il kinky 'cause he used the name Strickt…I foun' ou' later wha' he meant was St. Rick – an' the t was a typo!" The still somewhat perky woman in her late 40's pauses to look around then; "Y'know – iss one thing to pray bfor an' affer every meal, an'  three times on Sunday," she takes another sip, "but sayn a prayer before you shtup?, An' to pray tha'll be good?" Her elbow slips off the bar. "'Scuse me – an' tha'll stay  hard? It does sort of de-lube the ol' hoohah a bit…'kay – a lot."
She takes another sip, maneuvers the glass down almost onto the coaster – only two inches off target – fumbles inside the flip-top box of a pack of Marlboros, extracts one, and, puffing on it mightily, tries to light it – without any lighter flame. She gestures to me to lean in closer, leans in herself, and lowers her voice to a conspiratorial whisper, "I haffa lie bout the pill…" and then: "Y'know I ner drank 'til I met Ricky…"
She straightens back up and continues trying to light the cigarette…
More silence…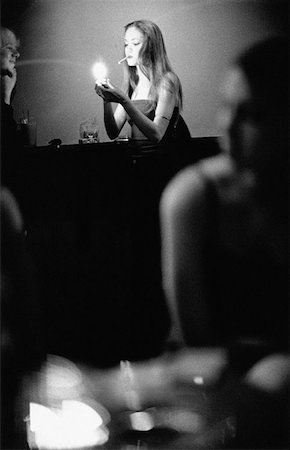 Then:
"An' why does he have twear tha stupid swerr vest to bed whenevr? I knowss his traymark and all…buss so not hot!" She finally gets the lighter flame going and tries – without success – to maneuver the moving flame closer to the cigarette, gives up, sighs, then leans in over her glass, and for about ten seconds stares into it – as if in a trance. She finally picks it up, takes another sip and continues, her words becoming even more slurred, "And one affenoon I thought oooh – he'sh gonna go down on me – buh he wash just reachin' 'cross me to get to his goddamn fuggin' bible. Sreally becomin' a bore.
More silence. Then:
'Nother aftnoon' 'fore he wen back to the snate he said oh God, I love you – I was sooo happy  –  ntil I realized he wasn't talkin' to me."
Then, missing the ashtray by a good  3 inches, she stubs the unlit cigarette out on the bar.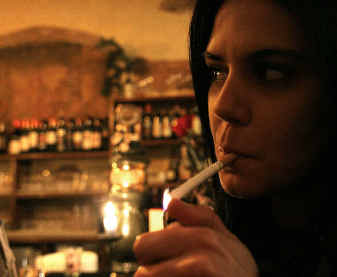 She finishes her martini, fumbles for another Marlboro light, and raises her arm to order another drink – her fifth. As the bartender approaches; "He's cute the bartenner huh?" she says winking at me…"Bartenner…did anyone ever tell you you're a good bartenner bartennerer…huh? I'll take anur martini, an' les jus' lose the vmouth hmmm." She tries lighting this cigarette, "he's gonna drive me nuts wall the prayin' – wou you blieve he prays affer dinner too? Thass not a exgagge- exgara- exaggregatshun either.  I am tryn t' do it with a prayin' mattress," the slowly zig-zagging lighter flame still some 6 inches from the cigarette.
The bartender leans in, and says softly, "Ma'am, I don't think you should have another – really. In fact, I think I should call you a cab because you're in no condition to drive home." She looks at him in that weaving unfocussed way that people do when they've had a wee bit too much, "bartenner, you are a gennaman an' a cholera, an' I than' you for your cocern, an' I kinely sept your kine offer." She makes an unsuccessful attempt to stand – and plops back down and says, "Y'know, I'm tryin' to keep it togerr, bu' sometimes I wonner why I bother, an' I wonner fRicky juss wanssa be pressdent juss so's he can make it a law thaeverybody hassa cross themselves fore they cross the street…or somethin' like tha."
She turns and stares at me in that same weaving, unfocussed, inebriated way. Then, turning back: "Boy, I sure wish I hadda cgrette"
© tony powers and Barking in the Dark, 2012. Unauthorized use and/or duplication of this material without express and written permission from this blog's author and/or owner is strictly prohibited. Excerpts and links may be used, provided that full and clear credit is given to tony powers and Barking in the Dark with appropriate and specific direction to the original content.