May I reprise this – with a slight re-write:
Originally Posted by barkinginthedark ⋅ September 18, 2011 ⋅ But certainly more relevant today:
Hitler Throws Helmet in Ring as Republican Candidate for President: "Why accept a pale imitation? I VILL VIN!!"
Adolf Hitler announced today through his Minister of Propaganda Josef Goebbels, that he would be entering the Republican Presidential Primaries in 2020. Herr Goebbels was quoted as saying; "Vas mitt der ridiculous lies und die economic zituation in America caused by der grosse schmuck Drumpf, ve feel it's der perfect sturm – und alzo der drang  – to chump in. Hobnail boots first"
Mr. Hitler interviewed later at his aerie in Berghtesgaden said; " It ist eine shlam dunkel, considering Ich can outmean zis Donaldt Trump putz any day in die woche…nein, forget die week – in die year! HE THINKS HE IST EINE HITLER? Gip me eine break! Vass hass he killed – a couple of facts? I killed millionen! Ha! Und meine liebe Joey G. put out more lies in ein rainy montag zen Herr Trump did in alles his "schwachsinnig" Presidency. Hast du forgotten vass meine Joeyla said? "If you tell a lie big enough and keep repeating it, people will eventually come to believe it" Hast du?
Hitler, appearing tan, fit, and rested, owing to his almost 75 year absence from the world stage went on; "Ziss Drumpf putz iss die cruelest Nazi in die Republicanischer party? Zis eine choke ja? Like meine favorite choke; two Chews valk into a bund meeting. Ach, it vunce made me do a schpit take! Forget Herr Drumpf…Ich makes bullshitten und propaganda und Lüge Rede far better zan ziss fat poseur mit his puppenspieler Putin, und his apologists like das female impersonator Ann Coulter, und das Hannity clown, und das poseur der Limbaugh freak – who looks even fatter in his dresses zen fat Hermann Goering did. (He's actually ser verlockend – don't tell Eva) Bedenken, Ich can outcrap die entire crappy Fox Netwverk. All amateurs! Not ein sincerely professional liar among zem! All in it für das Geld.
Aber Ich vunce zaw on Der Fox News (vich Ich alvays vatches fer die great comedy) after eine zo-called "debate" zis batshit Fox whacko Neil Cavuto, posing as eine chournalist, vas askink vun Republican nutball how he vould handle alles of die qvestions about his lies und he said, "I can control that…I can simply say; look people, go jump in the lake." Ich gotta tell you, Ich chumped up und down mitt choy at zat answer.
Ziss Drumpf dummkopf loves to shprechen real tough – vich does make me alzo do a schpit take because he used bone spurs to get him out of der military. Aber he iss  ready to zend alles of everyvone's kinde into battle – vich Ich alzo gotta admire.
Zis Republicanischer crowd vants to kill Zocial Zecurity? Ja? Vy efen bozzer? Und zis Obama Healsscare? Die Republicans vant to kill it alzo? Ich shprech again; vy efen bozzer? I vill chust kill people! I vill march everyvone ofer 65 straight into die ovens – Poof! Zer ist nein need fir Zocial anysing. Und Ich vas blaming die immigrant Chews und die "fake news" vich Ich called lugenpresse fur alles long before zis patzer Drumpf. Gip mir eine break!
Zo Ich am vas alles Republicaneshers vant to be. Me! Der wahre Republikaner!
Mr. Hitler than startled all of us in the assembled press by suddenly leaping to his feet: "DIE IMMIGRANTIN ARE TO BLAME! Let's chust cut to der chase here ja? IF YOU ARE NOT VITE, YOU ARE NOT RIGHT! YOU ARE OUTTA ZIGHT! Zese puny Republicans are chust dancing around vat zey really vant – und vas zey haff every right to haff – a good alte-fashioned Third Reich kind of pure liebend all-vite Aryan Nation – BECAUSE (he pounded his desk with his fist) MIGHT MAKES RIGHT! UND DER FAR RIGHT MAKES EEFEN MORE MIGHT DEN DE OTHER KIND!!
DRUMPF VILL TRY? KUHSCHEßE!* ICH VILL DESTROY DER MEDIA!!!

ICH MUST ZAY…LIKE DRUMPF, ICH VILL NOT NEED MEDDLERS LIKE DER MEDIA SHNOOPINK INTO MEINE PLANS TO DEREGULATE VALL STREET, UND TO GET RID OF ALLES DES REGULATORY AGENCIES LIKE DER FOOD SAFETY, DER ENVIRONMENTAL PROTECTION AGENCY, UND ZOCIAL PROGRAMS LIKE FOOD SCHTAMPS, UND DER CONZUMER PROTECTIONS ETC, UND TO KILL DEAD OBAMACARE, TO NEFFER RAISE DIE MINIMUM VAGE, TO LOWER ALLES TAXES ON CORPORATIONS UND DER VEALTHY – REMEMBER ZESE PEOPLE VILL KEEP ME IN POWER!
UND MOST IMPORTANTLY, VE MUST BUILD UP DIE PENTAGON BUDGET VILE VE KILL DEAD ZOCIAL ZECURITY BECAUSE VE NEED ZISS MONEY FUR TO MAKE VAR – ON DIE POOR! DAS IST DIE ESSENZ OF A REAL REPUBLICAN!!!
He sat back down.
"Ja…und by doink zis Ich vill restore Die Republicanischer Party to zer rightful place in der welt! Zese are sings zat most of zese Republicanischer oafs vant aber zey do not go far genug! Ich vill exterminate all zese useless immigrants schweine* – ziz ist die only sing Herr Trump hass gotten correct. Aber vy a vall? As diese Republicanischers all know Die Pentagon needs ziss money. I vill zimply do vat Ich did mitt die Juden. Vall? Fir vas? Ich vill invade Mexico und kill zem dead! Vy not? ICH AM DIE REAL RACIST, NOT ZIS ERSATZ RACIST DRUMPF!
ABER HE TRIES HARD ZO…RESPECT!

Tell me; vy settle fur imposhter nutballs like zis "Der Donaldt" schmuck mitt ein hat nest, ven you can have der real lunatic – ja?
I vill run as a proud Right – wing Republicanischer Fascist, und knowing der microscopic IQ of die American electorate, und zere hatred of der mud people, und zere short attention schpan und total, abysmal ignorance of history und…"
He leapt to his feet again, right arm outthrust, and SCREAMED;
                           "FORGET DRUMPF – GET DIE REAL HITLER!…

                             …"I VILL VIN!!! I VILL VIN!!! I VILL VIN!!!
                                                  HEIL MYSELF!!!"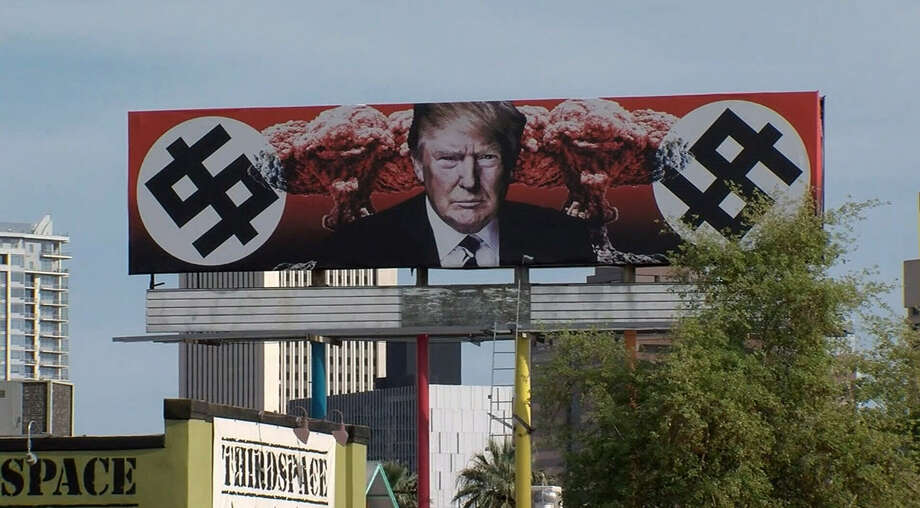 VOTE!                       VOTE!              VOTE!                 VOTE!               VOTE!
*The author apologizes…to all pigs and bulls everywhere. Comparing all the many beautiful members of the Bovinae family to any Republican is a gross insult. And special apologies for comparing all members of the Porcine family to true swine such as Hitler and Trump…it is far too demeaning to all noble pigs everywhere.
However, these comparisons could not be avoided.
© tony powers and Barking in the Dark, 2015, updated 2018. Unauthorized use and/or duplication of this material without express and written permission from this blog's author and/or owner is strictly prohibited. Excerpts and links may be used, provided that full and clear credit is given to tony powers and Barking in the Dark with appropriate and specific direction to the original content.