New York, Oct. 27, 2019 – Donald Trump and William Barr have been named as the new co-spokesmen for Banana Republic.
Brad Flabber, the Executive Vice-President in charge of all Banana Republic advertising for polos, shorts, and underwear, today made the announcement at the Banana Republic Factory on 34th Street and Fifth Avenue. 
"The new campaign" said Mr. Flabber; "which we're calling "Beautiful and Powerful" will feature Mr. Trump and Mr. Barr somewhere in Central America as they relax in the shade of a banana tree while sporting our new Getaway in Luxury line of polos, shorts, and underwear designed in 5X Large. Mr. Trump gave us the great idea of showing them being served cheeseburgers and cokes by a native which, as he so smartly pointed out, cleverly ties the campaign to Regular America."
Flabber said that later iterations of the campaign will add Mr. Rudy Giuliani to the mix. "We're working on a follow-up campaign called "Planning That Luxury Getaway" where Mr. Giuliani, Mr. Trump and Mr. Barr, all wearing our fabulous Banana Republic Can't Touch Me Polos in what we call our Manly Pastels, and our UberStretch Drawstring Madras Shorts, are video conferencing with their attorneys who will be outfitted in our beautiful Sharkskin suits. It will be to die for," gushed Mr. Flabber.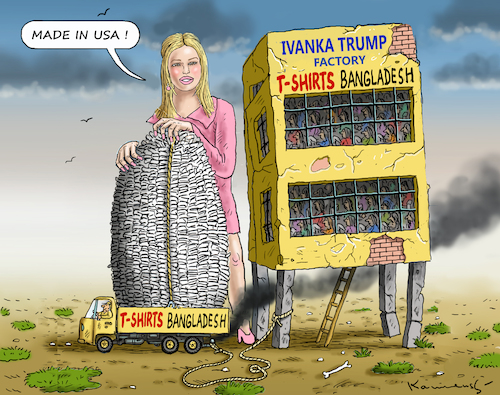 Mr. Flabber continued; "Further campaigns will ad women to the mix. Our Flowing Into The Fall campaign will feature Ivanka Trump, Laura Ingraham, Jeanine Pirro and Sarah Huckabee Sanders. Along with Messrs. Trump and Barr, these women are some of the more prominent people one thinks of when one thinks of any Banana Republic," he said.
Flabber, an ardent Trump supporter, revealed that; "I was planning on also getting Evita Peron but I was just told she was dead."
© tony powers and Barking in the Dark, 2019. Unauthorized use and/or duplication of this material without express and written permission from this site's author and/or owner is strictly prohibited. Excerpts and links may be used, provided that full and clear credit is given to tony powers and Barking in the Dark with appropriate and specific direction to the original content.